The Bible is full of romance and words of love.
For a long time now I've had the desire to read through the Bible in one year. I've tried this many different times, and I've always given up. It seems like I don't get much out of that way. I do much better to focus on just a verse or two, rather than several chapters at a time. I find myself going through the motions more often when I'm trying to check off my chapters to read for the day.
With all that said, I'm still trying again. This time, I have been reading the required chapters, but each day I find
one
verse to highlight in my reading. I underline it in my Bible and I think on it for the rest of the day. (Or at least I try to)
Yesterday, the verse I found was a love note. Now this was no ordinary love note found in the Bible.
This was from my husband.
I know there is a certain context the Bible is written in, and was written to specific audiences and so forth. I also know that I completely took this out of the context the Bible was meaning. Or maybe I didn't. Maybe God wanted me to find a love note hidden in the pages of my Bible from
my
husband yesterday.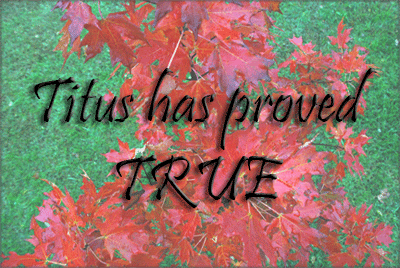 If you look up 2 Corinthians 7:14-15 in your Bible you will find these words,
"For whatever boasts I made to him about you, I was not put to shame. But just as everything we said to you was true, so also our boasting before Titus has proved true. And his affection for you is even greater, as he remembers the obedience of you all, how you received him with fear and trembling."
That may not sound like a love note to you at all. However, when I look up those two verses, I will always see the love from my husband, put there especially for me.
"Titus has proved true. And his affection for you is even greater."